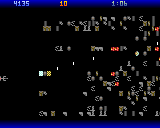 A horizontal space shooter with a few original rules.
Your aim is to keep the space station safe by clearing all the space debris approaching. Don't let any of them reach the left side of the screen. This won't be easy! The longer you play, the amount of the junk increases… but not for long.
Controls:
UP, DOWN - move the ship
[A] - fire a shot
[B] - fire a salvo (if equipped)
[MENU] - give up
See in-game instructions for extra tips.
Additional information:
Even though the game runs in high resolution mode, there are more than 16 colors on the screen. It was not that hard to achieve, but it requires some modifications to be applied to the framework. You will find the updated code here.
This is an initial release and I plan to enhance it further. I haven't touched the LEDs so far, and the soundtrack can be definitely better. Stay tuned for the updates.
Did you know that this game had its own tournament? Six editions were organized in years 2006-2008…

See more