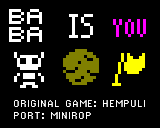 "Baba is You" for the META, based on the game jam build.
How it works:
the rules are visible in the level and can be changed by pushing/reorder them.
The goal of the game is to get on a tile whose rule is "tile is win"
You can press [B] to restart a level
The current build has the seven levels I could adapt from the game jam build.
---
"Baba is You" pour la META, basée sur la version de la game jam. (liens au-dessus)
Comment ça marche :
Les règles du jeu sont écrites dans le niveau et donc sont modifiables en les poussant/réorganisant.
Le but du jeu est de se trouver sur une case dont la règle est "case is win"
Vous pouvez recommencer un niveau en appuyant sur [B]
La version actuelle du jeu contient sept niveaux de la version game jam que j'ai pu adapter.

See more